Welcome to the best refreshing green smoothie recipe. Well, we all have grown up listening that we all should eat greens. By the time we grew up and learned about your health and taste preference, we came across delicious health drinks like smoothies or to be specific the Green smoothie.
Smoothies are not just easy but fast breakfast alternatives then tradition and time-consuming breakfast. In this fast-paced life, we look for varieties even in these short alternatives.
People have adapted green drinks to fulfill the body's nutrient and fiber requirements. Smoothies can also replace even junky snacks, and when you are drinking a green smoothie, then the snack is as complete as a bowl of salad or fruits.
Green smoothies are a perfectly balanced, super nutritious, and tasty drink. The color may be unappealing for many, but the health benefits are over the top. A simple green smoothie has few leafy green and green fruit that are themselves considered as a superfood.
This best green smoothie recipe we are going to share is literally the green smoothies for life, and it will definitely change your choice towards his green concoction.
Green Smoothie Recipe
Veggie and fruit smoothies are trendsetter these days. They should be because of the unbeatable health benefits they offer. If you are following a healthy green diet, then our 4-ingredient green smoothie is just for you. The preparation of spinach green smoothie recipe is just as easy as A-B-C, but we would like to discuss a few crucial points for the best green smoothie.
Greens to Fruit ratio: The idea of adding leafy greens is a bit weird and thinking about the texture might be gross too. We recommend 60% to 65% tropical or green fruits and 35% to 40% leafy greens.
Say NO to ice instead use frozen fruits: We love our smoothies super chilled. To gain the icy cold freshness with a thick consistency, we recommend using frozen fruits. Ice will also make the smoothie cold and thick, but it will dilute the flavor. It can make smoothie runny and unpleasant, eventually.
Blending: The blending process of a green smoothie is straightforward but needs a little attention. Believe us, you do not want a glass of chunky smoothie! We recommend blending the leafy greens first with liquid ingredients until smooth.
Powerful Blender: The blender can make a huge difference. From blending the leafy green to blending frozen fruits, a good and powerful blender with sharp blades will make the process quick without ruining your beautiful ingredients.
If you are busy or short on time and cannot go to the market to search for a good blender, we recommend you visit our list of the best portable blenders available. Click here to check them out.
Liquid Ingredients: We recommend using any dairy or non-dairy milk of your choice. You can also use the juice of your favorite fruit as a milk substitute.
No Extra Sweeteners: Veg shakes alone might need sweetening to overcome its earthy taste. Still, even it comes to veg and fruit smoothies, it does not need any artificial sweetening. The natural sugar from the fruit will but just add sweetness but are ideal for weight-loss and dieting.
How to Make a Green Smoothie?
The recipe we are sharing with you is one of your favorites. This one glass is packed with potassium, iron, and other essential nutrients that will not just help in weight-loss but also boost your immunity. This green smoothie recipe, itself is a complete package of health and taste. Still, it can be easily customized to taste preference.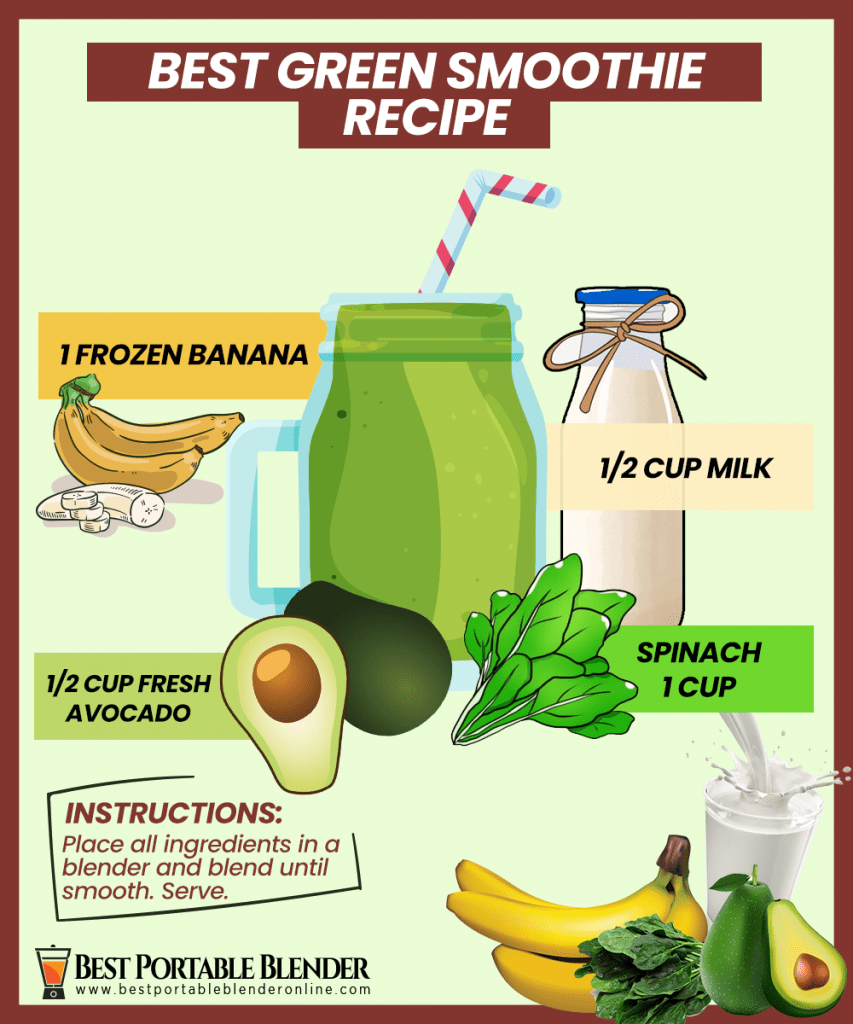 Looking for some more tasty smoothie recipes?  Here are a few of my faves!
Green Smoothie Ingredients
Frozen Banana 1
Spinach 1 cup
Avocado 1/2 cup
Milk ½ cup
Variations in Blend
If you are looking for options to spice up this daily smoothie, then here is the list of few fun variations you can add and experiment with. These ingredients make your smoothie game top-notch and fun.
Leafy Greens: Grocery stores' shelves are filled with amazing leafy greens that can make the decision hard. Here are the few of our top picks for leafy greens, Arugula, kale, celery, collard greens, swiss chard, and beet greens.
Fruits: Fruits are a gift from nature, but when you are pairing them with greens then it might get tricky. Here are our favorite fruits to add to spinach smoothie; Green apple, strawberries, raspberry, blueberries, mangoes, pineapple, cherries, peaches, grapefruit, and oranges.
Juices and Milk: You can use grapefruit, orange, and pineapple juice as a liquid base instead of adding the whole fruit. The following are the non-dairy milk that you can use; Hemp milk, almond milk, soya milk, coconut milk, rice milk, oat milk, and cashew milk.
Powders: Powders can add an extra boost of protein and taste in the smoothie. You can add plant-based protein powder, cocoa powder, acai powder, maca, and collagen powder. One scoop per serving is ideal.
Aromatics: The aromatics might be added in a small amount, but they have a significant impact on taste and aroma. You can add an inch of ginger, a handful of mint or ½ tsp of cinnamon, and cardamom powder while blending. They are not just refreshing but also immunity boosters.
Seeds and Nuts: One of the popular variations in the smoothies is adding seed and nuts. They add extra crunch to the thick texture of the smoothies. You can add bee pollen, raw cocoa nibs, almonds, pistachio, cashews, peanuts, ground flax seeds, sunflower seeds, hemp seeds, and of course, our beloved chia seed. A one to two teaspoons is enough for a glass.

Instructions
In a blender, add spinach and milk. Blend it until smoothie. We are using Vitamix Explorian Blender. It is just perfect for pureeing these greens.
Add banana and avocado and blend until smooth.
Serve chilled and enjoy.
Final Verdict
Green smoothies really that good for you, especially when you are too busy to maintain a healthy lifestyle. This green smoothie recipe will also help you to incorporate greens into children's diets. You can just gather your kids and make the smoothie for some family and health time. Do let us know your favorite version of this super-healthy green smoothie.
Cheers to health!
Related Buying Guides: