Are you interested in trying Smoothie King Caribbean Way Smoothie Recipe at your home that is an exact copycat of what you get from Smoothie King? Then you are in the right place.
Here we are going to tell you step-by-step, how you can make delicious Caribbean way smoothie king recipes within no time. Moreover, getting the same consistency as Smoothie King menu would be a great experience for you and will save you a few bucks for sure.
Are Smoothie King smoothies really good for you?
Smoothie King recipes are a great option one can go for in order to break his/her dull routine. In summers, it is even more beneficial to keep yourself hydrated and takedown the effects of scorching weather.
It is not only the smoothie craving that leads us to consume smoothies but the fitness freaks and campers find smoothies as a breather when they have the urge to maintain their sugar and protein levels after a heavy workout and hiking respectively.
Well, my whole family is no different from the smoothie lovers mentioned above. Being a food blogger I'd love to share this Smoothie King Recipe for Caribbean Way Smoothie and believe me it would be a great serving for your friends and family gatherings. You'd definitely love it.
What does Smoothie King put in their smoothies?
Smoothie King recipes consist of fresh fruit extracts instead of food additives in their menu to keep up the quality of nutrients offered in the drinks. That's why people have firm trust in them.
Click here for detailed insights regarding the ingredients they use in the smoothie king menu
It's quite natural if you think what is the secret sauce to the Smoothie King smoothies? It means that you are a creative-minded guy who is crazy enough to give reality to your dreams.
This recreational ability would set you apart from others who purchase the smoothies from Jamba Juice, Smoothie King, and Robeks, etc. at the expense of their money instead of giving it a try themselves in their homes.
How do you make Smoothie King smoothies?
The key ingredients we are going to use in this homemade Smoothie King recipe include papaya, banana, and strawberries to produce a restaurant-ready tropical taste with a perfect blend texture.
I've found juice-based smoothies way more refreshing than the milkshakes with dairy additives to assuage your cravings.
You only need a blender and a few ingredients listed below to make an energizing homemade Smoothie King Caribbean Way smoothie.
Natural Papaya powder or fresh Peach Juice
A fresh banana
A bunch of strawberries
Semi-processed sugar
Ice
We are using semi-processed (Turbinado) sugar instead of white granulate sugar so that diabetic patients can also drink it.
If you don't have it available in your home, you can add brown sugar instead.
Looking for some more tasty smoothie recipes?  Here are a few of my faves!
How to keep up the consistency in the smoothie blend?
Well, it depends! If you want your smoothie to be thicker as a shake or be thin runny liquor like a juice maybe.
To achieve a viscous blend texture, you should use frozen fruits instead of fresh ones.
Cut all the fruit ingredients into pieces and freeze for 30 minutes before giving them a blend or use packaged frozen fruit from the store.
On the other hand, if you want a smooth blend texture to the smoothie, add some water while blending.
Step-by-Step Guide to Prepare Copycat Smoothie King Caribbean Way Smoothie
It is quite common that we all use to drink smoothies in summer to keep our self energized throughout the day. Smoothies are easy to prepare as we just have to blend up all the ingredients until puree. You can blend one for yourself within no time.
Follow this guide to prepare a homemade copycat Smoothie King Caribbean Way smoothie in your kitchen.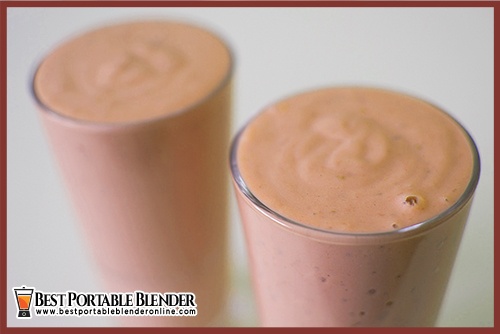 I am using Vitamix Explorian Blender for this smoothie. You can use any blender available in your kitchen. Stuff the blender with a bunch of fresh strawberries, peeled banana chunks, papaya nectar/powder or you can add peach juice instead, and turbinado sugar.
Blend till it gets smooth as you like.
Open the jar lid. Add the ice cubes, and cover again. Now blend for at least 2 to 3 minutes to achieve a consistent blend texture.
Serve as you like with some strawberry topping and straw.
Note: In case, if you are looking for a powerful smoothie blender, we have compiled a list of the best smoothie blenders in the market. Click here to check it out.
Follow along to get the (Printable) Copycat Smoothie King Caribbean Way Smoothie Recipe.
Smoothie King Caribbean Way Recipe
The key ingredients we are going to use in this homemade Smoothie King recipe include papaya powder, Turbinado sugar, banana, and strawberries to produce a homemade copycat Caribbean smoothie with tropical taste and perfect blend texture.
Equipment
Vitamix Explorian Blender
Ingredients
1

Banana

3

tbsp

Papaya Powder

1

Cup

Strawberries

1½

tbsp

Turbinado Sugar

Ice Cubes
Instructions
Stuff the blender jar with banana chunks, a bunch of strawberries, and papaya powder. Cover the lid and puree for 2 to 3 minutes to get a consistent blend texture.

Open the lid and add ice cubes as you like. Blend until smooth. Blending will hardly take 2 minutes.

Add some strawberry topping if you want, place a straw and serve.
Video
Notes
Do try this recipe for yourself
Don't forget to follow us on Instagram and share your recipe with us on @bestportableblender so we can share what you're cooking!
Must Read Buying Guides: